About Us
Stéphane was trained traditionally in the Bourgogne (Burgundy) region. He and his wife, talented business woman Muriel, have spent over twenty years delighting Australian taste buds around Melbourne and the entire country with his passion and specialty skill of producing high end premium quality, authentic French Charcuterie.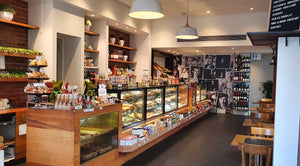 CAFÉ
Our café and retail Charcuterie store is on Toorak Road,South Yarra. Enjoy the chic French atmosphere and décor while ordering from the all-day menu which draws attention on our distinctive, quality range of pâtés, rillettes, terrines, duck confit, cured meats, saucissons, shortcrust pastry savoury quiches and pies. Of course, there is wonderful coffee, teas, desserts and fine French wines.
** $100 Minimum for any delivery, 3pm cut off for delivery within 1-2 days. All pick up is for next day between 1pm - 4pm. All deliveries are made Monday to Friday between the hours of 10am and 4 pm.